NWTC
2740 West Mason Street
Green Bay, WI 54307
Phone: (800) 422-NWTC
www.nwtc.edu
NWTC Campus Locations:
Green Bay
Marinette
Sturgeon Bay
Aurora
Crivitz
Luxemburg
Oconto Falls
Shawano
NWTC Speciality Centers: 
Artisan & Business Center – Green Bay
Learning & Innovation Center – Sister Bay
Universal Driving Facility – Howard
North Coast Marine Manufacturing Training Center – Marinette
The North Coast Marine Manufacturing Alliance collaborates with the Workforce Panel of the National Shipbuilding Research Program (NSRP). Visit www.nsrp.org to learn more.
North Coast Educational Partners

Above are regional tech ed teachers observing student manufactured SeaPerch robots at Marquis Yachts. This event was part of a Marine Manufacturing Careers Exploration event.
Educational Programs at NWTC
Northeast Wisconsin Technical College offers Associate Degrees, Technical Diplomas, Certificates, and customized training programs. Classes are offered on their northeast Wisconsin campuses, including the North Coast Marine Manufacturing Training Center in Marinette. Classes and training are also held at company locations. Checkout NWTC's PROGRAMS and BUSINESS & INDUSTRY TRAINING.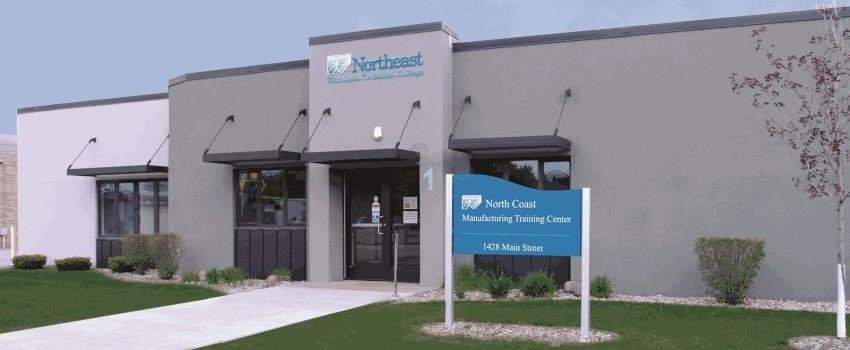 Located in downtown Marinette, the North Coast Marine Manufacturing Training Center is continually expanding. With a marine welding lab, electrical lab, fully functional computer lab, and conference space, training is conducted here around the clock for all shifts. Additionally, their instructors deliver essential employability and leadership training. The North Coast Marine Manufacturing Training Center is located at 1428 Main Street, Marinette, WI 54143.
More Options for Adult Learners
The following are a trio of high-demand, high-quality degrees developed in collaboration amongst visionary faculty and regional manufacturing leaders. Students pursuing one of the three degrees begin their academic studies at any one of the 12 NEW ERA colleges/universities located in Wisconsin. Students finish the program and earn degree at either UW-Green Bay or UW-Oshkosh.
Bachelor of Science – Electrical Engineering Technology: Prepares students for a career as an electrical engineering technologist with the technical and managerial skillls necessary to enter careers in the design, application, installation, manufacturing, operation and maintenance of electrical/eclectronic systems. Students specialize in product improvement, manufacturing, construction and operational engineering functions.
Bachelor of Science – Environmental Engineering Technology:  Responds to northeastern Wisconsin manufacturers' and municipalities' workforce needs as well as addresses 2010-2020 Bureau of Labor Statistics projections that estimate a 14% increase in environmental engineering technology positions. Graduates are prepared to work in a number of industries outside of manufacturing, such as in water and wastewater management, agribusiness and biotechnology sectors.
Bachelor of Science – Mechanical Engineering Technology:  Provides students with instruction and hands-on experience to develop competencies in applied mechanical engineering and analytical and critical problem-solving skills.  Graduates and industry benefit through a more knowledgeable and flexible workforce that will fill positions in regional industries, manufacturing and engineering service firms.